About...




Open Call for...




Info for...




Questions? contact@tellmeyourissues.com Dave @ 402-968-5963

Header photos
Huddled by Ann Myers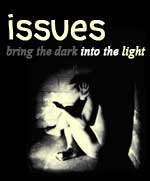 Call for Artists and Designers is now closed.
Thank you very much to all those who submitted. Everyone will be notified by July 7th, 2011. Questions? Feel free to Contact Us.
---
Open Call for Artists and Designers

Issues is seeking artists and designers for a three day art and fashion event. The show will be held September 16-18, 2011 with a schedule that can be shaped by the Artists/Designers, Authors, and performers that come together for the show.
Our concept is simple, Find the dark spots in your mind that disturb you, or interest you, or both at the same time. Bring it into your art and designs and show it to the world
We ask Artists and Designers to submit three links to the works, or ideas for works, they wish to enter for consideration.

Note: You do not need to submit Finished works for consideration by June 30th. What we seek are your ideas and links to representative examples of your work so the panel can see your style
The items will be judged by our panel and the ones we feel best fit the idea of what we are looking for will be notified by July 7, 2011 for their entry into our show.
Art can be in almost any category. Painting, sculpture, photography and visual mashups will be considered and accepted. Designers of whole outfits, clothing lines and/or accessories will be considered.
Please fill out the below form and submit it no later then June 30, 2011 for consideration.

If accepted, the individuals will be contacted with next steps including review of the rules and expectations.
Preview of Expectations and Rules…
---
Sponsors Wanted
See your logo here

If you are interested in supporting this event please click here find out more.